You spend time finding just the right gift for your loved ones, something that's personal, something that matters, something that does not come from the mall. You want to give something that celebrates the moments you love with the people you love. We get it. Join us as we take you behind the scenes of the love we put into creating unique products. So grab a cup of coffee, have a seat and let's have a look at some Valentine's Day gift ideas and how they come to life.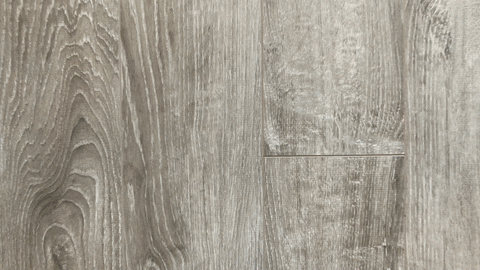 We take pride in hand-crafting our products here in Brooklyn. We also take great pride in hand drawing and painting a lot of the amazing little details you see throughout our cards, collages, and photo book templates.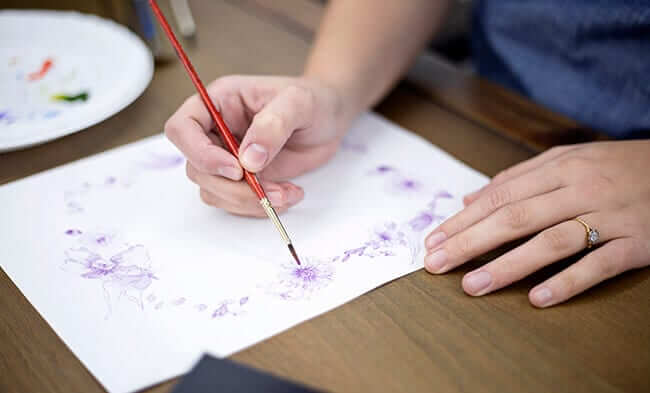 It starts with research on the designs and looks that are trending. Our artists will then make their creations come to life by hand drawing and painting their work.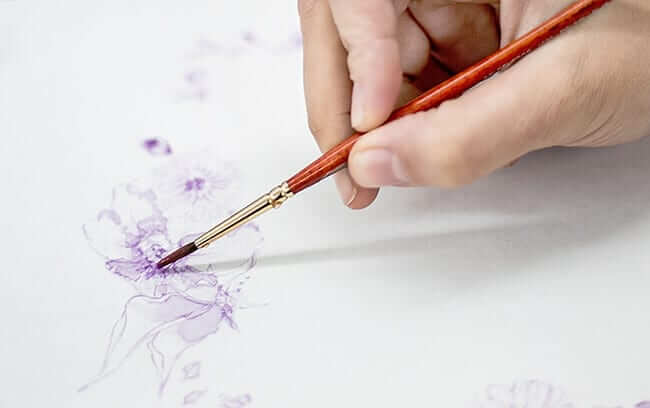 Then we bring the artwork into the digital arena. We'll scan the images and sprinkle them throughout various layouts giving our members one-of-a-kind artwork that can't be found anywhere else.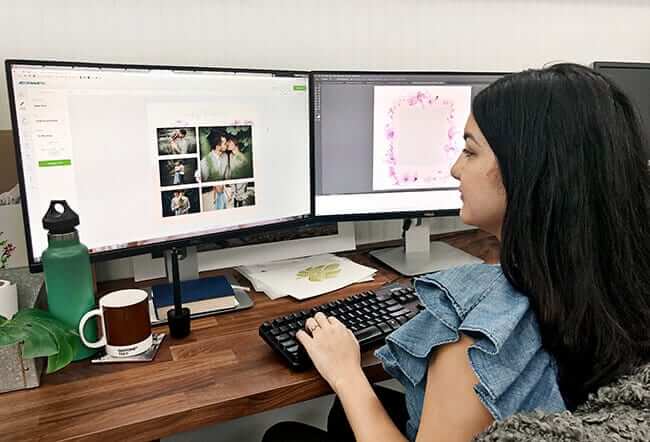 Now that you have a glimpse at the work of love that goes into our designs, we'd love to show you some great Valentine's Day Gift Ideas that with your pictures will give you a truly one-of-a-kind gift for your loved ones.
Valentine's Day Gift Ideas
In a world of constant digital communication, it' important to be nostalgic and create cards and personal notes for loved ones. Remember the days in elementary? The feeling you had when getting all of those Valentine's Day cards and reading through every one? That was a great feeling.
Now more than ever, a card with a handwritten note inside conveys love. Cards have permanence. They connect and sustain relationships. It shows someone put their life on pause, thought about you, chose just the right card, pictures and words to tell you how much you mean to them.
Choosing just the right card for loved ones is half the fun. Simply upload a picture to Printique, and pick from one of the many hand-created styles our artists made and design it just the way you want it!   With a variety of template designs and four different paper choices, there's plenty of options to make your card stand out from the rest. You can get just one, or order in sets of 12 to hand out to the whole squad. Don't forget to put pen to paper with a special message inside for the person who will receive it.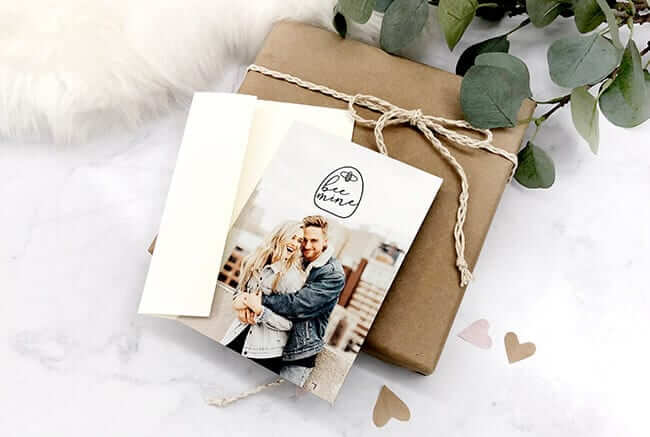 Photo books are one of life's many cherished possessions. They help us remember our passions and the loved ones in our lives.  They help keep memories at our fingertips without having to download, use a password or need battery power to view our lives. We use traditional silver halide printing to make sure you receive the highest quality photo book for not only yourself but for future generations.
So for this Valentine's Day, stop time in its tracks in this ever-changing world. Gather your photos and make a photo book. Browse through our all-new, hand-designed love-themed templates for inspiration. You can keep your books short and sweet with the 6 x 4.5 size or go BIG with the 12×12. You can be as creative as you like and design it from scratch, or use our auto-builder to do the work for you. The end result is a small gesture, with long-lasting, loving reward.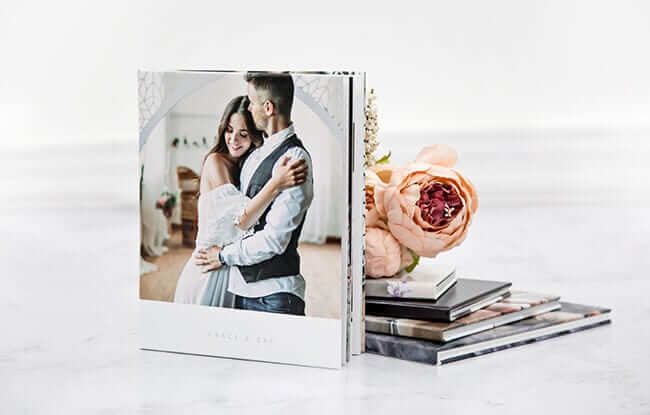 (Looking for out of the box photo book ideas for Valentine's Day? Check out our blog post on 3 Valentine's Day Book ideas by clicking HERE.)
The framed pictures on our walls at home and on our shelves invite us to something bigger. They remind us of a life lived with purpose and meaning. They remind us of who we surround ourselves with in this life. Who has our hearts and who gives us love and laughter in return.
When you walk past a framed photo, this framed stolen moment in time often brings back memories of warmth, home, and loved ones. It is a feeling of belonging.
Giving a photo a more permanent home in a frame takes only minutes to create and is the perfect Valentine's day gift for anyone special in your life.  We offer hundreds of styles and easy matting options to make just the right display for that perfect picture you want to grace someone's home.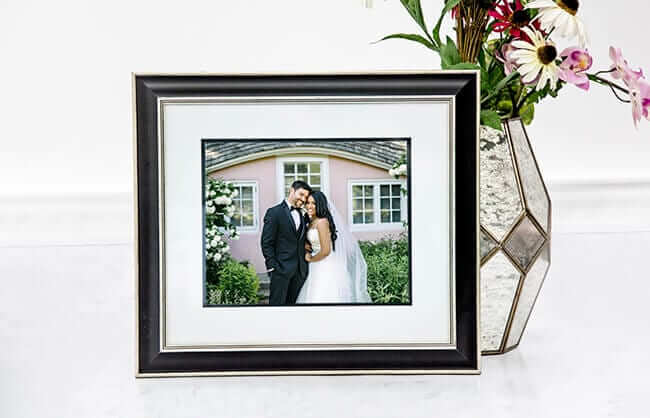 There is no quicker connection to the heart than giving someone a shared, loved memory. There is something very powerful in touching an actual photo print. Feel the texture in our silk paper or the velvety smoothness of our deep matte. It's a sensory experience that you do not get by touching a cold screen.
With several different paper choices and a wide choice of sizes, you will be able to find the perfect fit for your perfect picture.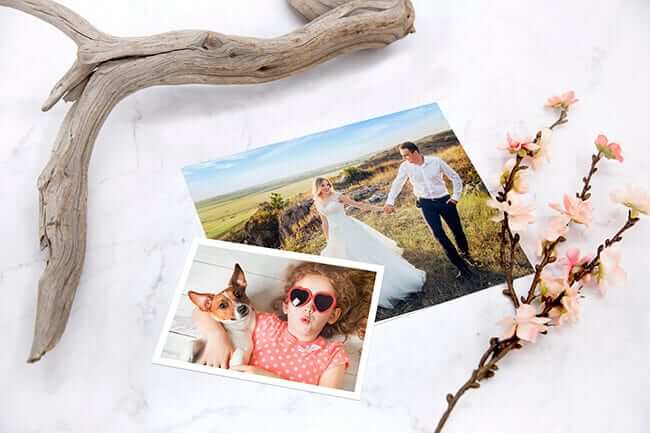 Sometimes you want to design greatness and give a collage. No need to pick just one picture. You can have it all and give a memory of stolen moments that showcase a feeling.  Choose from simple designs or more elaborate. You can also choose to print on photo paper, metal or canvas. By the way, see those purple flowers on the top of the collage? These came from the watercolor painting we showcased at the top of this blog post.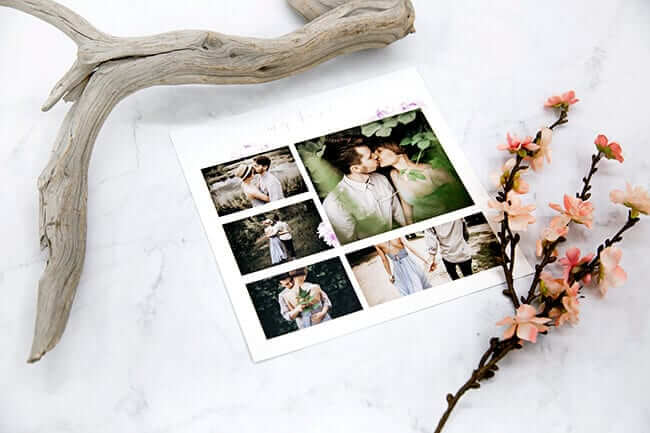 Ok, this is just too cute. Sometimes, you just need to give something that's thoughtful and sweet! Choose a heart-shaped metal print for your favorite person. Keep it petite with an 8×8 size or make a statement and choose the 16×16!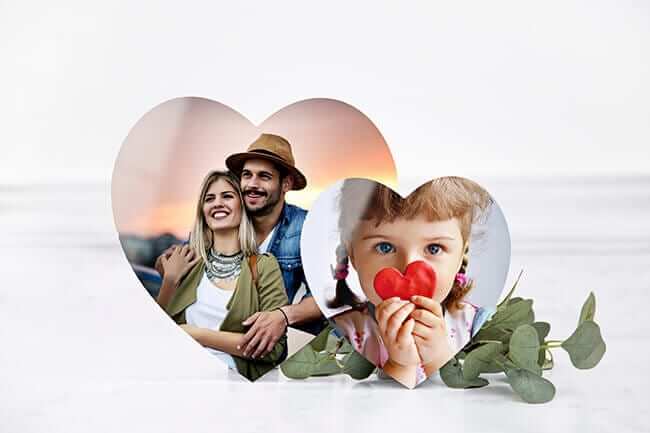 This was just a quick glimpse at some Valentine's Day gift ideas. It's important to believe in print and realize that photos of loved ones are the one gift, that will never, ever go out of style. This is your life, embrace it, print it, love it.